Blue Stone and the Larimar stones
Initially, it is at the demand of Well-Being professionals, like mineralogists and other specialist, that we offer and provide rolled stones, « chapa » or rough blocs of Larimar.
Aside our job as jewelers and creators, in which all the finest stones are used for the collections, we also distribute the larimar under all of its shapes to satisfy the needs and likings of everyone.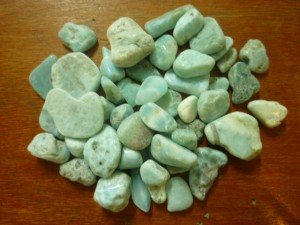 Our rolled stones are entirely natural. We select certain Larimar blocs not used for our jewels, which are then crushed and spun in a barrel,
mixed to sand and water to recreate natural erosion provoked by the friction of the stones between them, such as the round shape of the pebbles created by the contact with water.
At the end, we engage in a meticulous sorting of the stones to select the most beautiful and natural of the larimar.
Stones of different calibers (between 3 and 20 grams). The stones most frequently used weigh between 4/5 and 9/10 grams.
Many collectors or amateurs alternatively choose between our rolled or polished stones because of their original shape and beauty.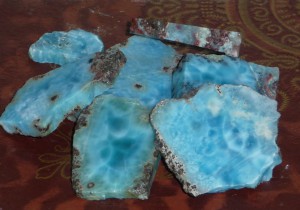 We also offer a selection of small blocs of rough sliced larimar for the lovers, amateurs or collectors of this unique and luminous blue/green/grey-white stone gem……
To know everything about this unique mineral in the world :