The 4 precious stones
Diamond – Ruby – Emerald – Sapphire
The 73 semi precious stones
Actinote – Agate – Aquamarine – Alexandrite – Almandine – Amblygonite –
Amethyst – Anatase – Andradite – Anglesite – Apatite – Aventurine – Axinite – Barite – Benitoite – Beryl – Cancrinite – Charoite – Chrysocolle – Citrine – Clinozoisite – Cordierite – Carnelian – Danburite – Demantoide – Elbaite – Epidote – Garnet – Hayne – Heliodore – Hematite – Hiddenite – Jade – Jasper – Kunzite – Kyanite – Lapis Lazuli – Larimar – Malachite – Melanite – Microcline – Moonstone – Morganite – Oligoclase – Onyx – Opal – Painite – Periclase – Peridot – Prehnite – Rhodonite – Rock crystal – Rose quartz – Rutile – Scheelite – Serpentine – Smoky quartz – Sodalite – Spessartine – Spinel – Spodumene – Staurolite – Sunstone – Tanzanite – Tiger Eye – Tremolite – Topaz – Tourmaline – Turquoise – Uvarovite – Variscite – Zircon
The organic gems and gemstones
Abalone – Amber – Copal – Jet – Mellite – Pearl – Red Coral 
Sources : Barriand P. – Poirot J.P., « Larousse des Pierres Précieuses » 2004, 1998 reedition
The gemstones: In the french lesgislation, the names « gemstone », « ornamental stone », « precious stone », all fall under the same title « gemstone », to answer the CIBJO's (International commission of Jewelry and Silverware) classification, which does not distinguish between the three expressions. « Precious stone » can only be applied to a natural product. This commission gives diamonds a different treatment.
The amber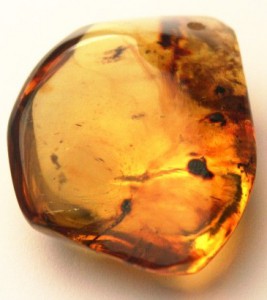 Thus, amber is not a stone, but a mineral. Transparent, shiny, it sports a tint usually between gold and orange, but does also exist in green, red or blue.
It darkens in a natural way with time.
If an amber is in direct contact with fire, it will instantly ignite. Its hardness is similar to that of gold or silver, but amber is less solid than iron and other minerals.