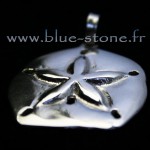 We wanted to enhance this frail little animal commonly found on the marvelous white beaches of
Santo Domingo.
A true legend, we created an identical copy in silver and gold.
We also developed a whole collection of bracelets and pendants for this little jewel, that will please women as well as men and children…
Discover our designs by clicking on the picture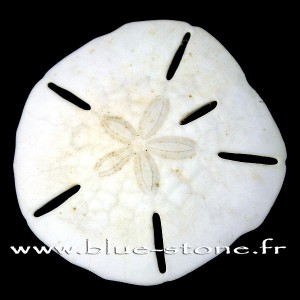 Shape and origin :

The Clypeasteroida family also regroups echinoderms (urchins and starfish).
The Sand Dollar was given its name because of the resemblance with a canadian dollar coin.
This content is submitted to the CC-BY-SA license. Source : the Clypeasteroida article on French Wikipedia (authors)
The Christian Legend
The « sand urchin » would be a symbol for the life and death of Jesus Christ :
On one side, we can see the star that led the Three Kings to the manger. The four wounds represent those found on the Christ's hands and feet during his crucifixion. Finally the fifth wound is the one delivered by a Roman centurion on his flank which caused his death.

On the other side are engraved the petals of the winter poinsettia (a tropical flower which only blooms at Xmas).

When the sand dollar is broken in half, like a wafer, five tiny white stones are freed, strangely resembling white birds symbolizing the Holy Spirit's doves : the Resurrection !
This content is submitted to the CC-BY-SA license. Source : The Cinq-Plaies article on french Wikipédia (authors)