Bijoux Passion

Aline Alonzo is gifted with a « passion for jewelry », gems and craftsmanship. An online boutique of great diversity and containing many well-known brands. A beautiful collection of jewels and stones (Larimar, Jade, Amber…)
Les Poulettes.fr

Stéphanie Ducauroix cherishes jewels, life, children, the countryside and chocolate.
The creators' gallery, an incredible « on-line » window of fantasy jewelry, silver and Blue Stone jewels.
OR de Paris
Graduate of an important engineering school, Mireille Mongillon-Müller is fascinated with minerals and gems. Gold jewels, silver, vermeil, men collection… Fine stones, Tahiti pearls and a meticulous selection of the Blue Jewel by Blue Stone.
Over 250 professionals in France and in Europe
A selection of the best jewelers & minerals shops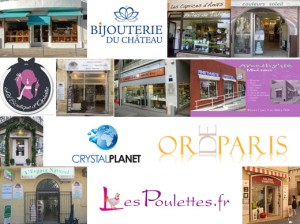 Countries, cities and counties of our main resellers
FRANCE
06:

EZE Village .

07:

BALAZUC . RUOMS . LES VANS .

09:

MIREPOIX . 

17:

JONZAC . SAUJON . SAINT-PALAIS .

24:

BERGERAC . SARLAT .

25:

BESANCON .

29:

BREST . CROZON .

33:

ANDERNOS LES BAINS . ARCACHON . PINEUILH .

34:

 BALARUC-LES-BAINS . MONTPELLIER .

35:

CANCALE .

37:

LANGEAIS .

39:

DOLE .

44:

NANTES . SAINT PHILIBERT DE GRAND-LIEUX . PORNIC .

46:

ROCAMADOUR . 

50:

GRANVILLE .

56:

VANNES .

59:

LILLE . MERRIS . TEMPLEUVE . 

64:

SERRES-CASTET . CAMBO LES BAINS .

65:

BAGNIÈRE-DE-BIGORRE . LANNEMEZAN .

66:

COLLIOURE . SAINTE MARIE LA MER . 

69:

L'ARBRESLE . 

73:

MERIBEL . BRIDES LES BAINS .

80:

ABBEVILLE . FORT MAHON .

81:

CASTRES .

82:

MOISSAC .

83:

BANDOL . LE BEAUSSET . LE LAVANDOU . SAINT RAPHAEL .

84:

L'ISLE SUR LA SORGUE .

87:

LIMOGES
PARIS & its whereabouts
75:

PARIS 15e .


77:

MELUN . TOURNAN EN BRIE .

78:

HOUDAN .

94:

ORLY .

95:

TAVERNY

 

DOM – TOM & CORSICA



20:

AJACCIO


97:

LA RÉUNION: LE TAMPON
EUROPE
SWITZERLAND
NETHERLANDS 
4611 BERGEN OP ZOOM : DE VIJF WIJZEN
3331 LE ZWIJNDRECHT : PEARLS AND STONES

GERMANY
AUSTRIA
1120 WIEN: INGRID F.MONZ
5700 ZELL AM SEE : STEINWELT
6130 : SCHWAZ/TIROL : SCHWAZER SILBERBERGWERK
SPAIN 
12001 CASTELLÓN : OMblanc AZAHAR NATURA
WORLD
AUSTRALIA

UNITED ARAB EMIRATES

To obtain the details of the shop nearest from you, send us an email with you county, city and ZIP code